The Enjin Coin marketing team has done it yet again- proving that you can single-handedly carry an entire project by pump news and hype making, actually development be damned.
A few days ago, the Enjin Coin marketing department secured a key payment, I mean, partnership with Samsung that resulted in ENJ being displayed as one of the ERC20 tokens in the S10 Ethereum wallet demo. Keep in mind, it's a fucking Ethereum wallet. Every ERC20 will be compatible. In other words, this is HUGE.
If you've been ENJ-curious, don't fret, the growth was totally organic and should continue to persist on this earth-shattering development. Keep in mind, ENJ is only like US$0.20. Bitcoin is at $3900 and wasn't listed as one of the assets available in the Samsung Galaxy S10 Ethereum wallet demo. I'm not saying it still has a 1000x to go, buttttttt…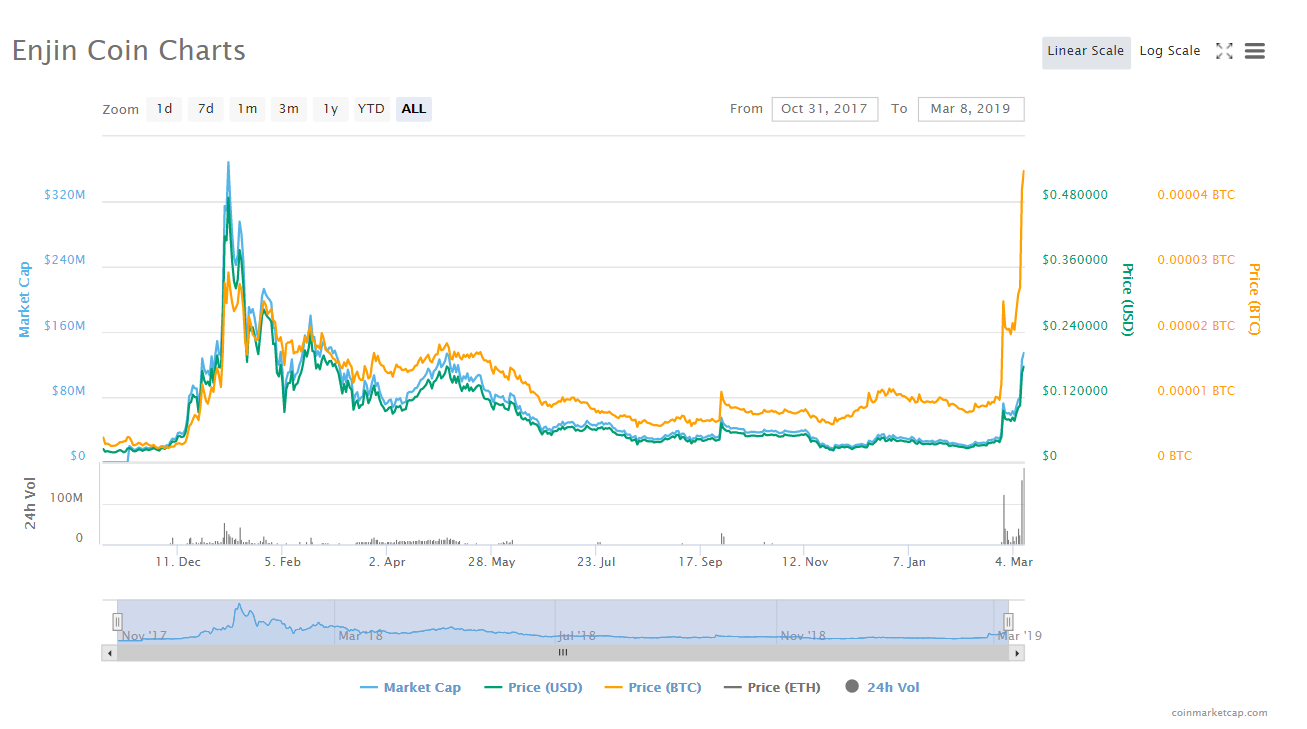 Of course, it's not only marketing that's gotten Enjin Coin to where it is today. Let's take a look at the road map to see all the great developments they've made since their 2017 ICO.
Q3 2k17
Q4 2k17
PC & Mobile Smart Wallets – CHECK only took like an extra year
Platform API – SoonTM
Java SDK – SoonTM
PHP SDK – SoonTM
Minecraft Plugin – SoonTM but actually never
Unturned Plugin – SoonTM read Minecraft plugin above
Q1 2k18
Shopping System – Coming first thing after Minecraft integration
Forum Support – Coming first thing after Minecraft integration
Automations – Coming first thing after Minecraft integration
Donation System – Coming first thing after Minecraft integration
Awards System – Coming first thing after Minecraft integration
C# SDK – Coming first thing after Minecraft integration
Q2 2k18
Escrow System – SoonTM
Custom Coins Manager – SoonTm
Voting – ENJ holders have no power only propaganda
Boost Wall Posts – Enjin forums are dead so probably never
Q3 2k18
Subscriptions – Money is just a social construct
Payment Gateway – Read above
Payment Widget – Read below
Other Forum / CMS Plugins – Postponed until Enjin Forums are brought back to life
Q4 2k18
iOS Swift SDK – Unfortunately the death of Steve Jobs was a hit to the progress here.
Android SDK – Basically integrated with Samsung partnership
Integration with Enjin CMS Developer Tools – What does this even mean
Unity and UDK support – Okay this is actually right around the corner but this has been the case for a year.
TopLists – "Hey Tonya we need at least one more objective to bring in big bucks just put some buzz words down it can be anything."
So basically, Enjin Coin is churning along great. Of course, this support is also bolstered by the massively popular Enjin Forums with a few dozen or something active members. Check out all these popular communities with hundreds of thousands of registered users of which there are like 5 monthly active users. Minecraft totally isn't dead so all their tens of millions are obviously still very connected with the servers that definitely still exist from a seven years ago.
If you don't believe me about there being millions of supporters then look at the supporters page which compromises "1.5 million members". For an added challenge click through the communities and find all of the ones that aren't shut down/have zero active players. Try and beat my high score which was about half a dozen.
Enough about the forums, lets talk about the bread and butter. The E N J I N C O I N M U L T I V E R S E. Earlier on in 2018 Enjin paid a bunch of "top tier" blockchain games I mean forged strategic partnerships to use their ERC format. The multiverse is THRIVING with a whopping zero-ish active players across all the massive environments that make it up.
In Conclusion
Enjin Coin holders have a very high IQ and in depth knowledge of the crypto space, especially in the gaming niche. Enjin Coin is the best blockchain gaming project (wait, ENJ even applies to blockchain gaming? [it doesn't]) and this is only the beginning. It's currently at a similar valuation to projects with millions of users, government partnerships, and industry shaping implications. Alas, it's still undervalued and you should absolutely buy in if you haven't already or get BTFO.